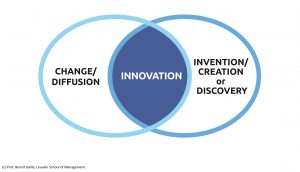 Innovation means much more than invention. Managing innovation means managing both newness and change, and the latter often matters the most.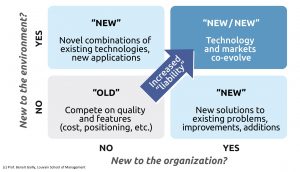 Newness is relative. What is today new to one manager, its organization or its environment might not be to another.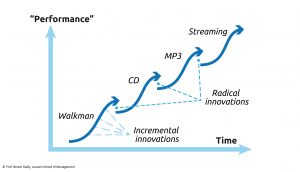 Innovation is about changing people's perceptions and realities, combining many small steps and a few big bets
Bibliography
Innovation means much more than invention
(Book) Berkun, S. (2010), The myths of innovation, O'Reilly Media, Inc..
(Book) De Brabandere, L. (2005). The forgotten half of change: achieving greater creativity through changes in perception, Kaplan Publishing.
(Book) Latour, B., Woolgar, S., (1979). Laboratory Life: The Social Construction of Scientific Facts. Sage, Beverly Hills, CA.
(Book) McKeaown M. (2008) The truth about innovation, Pearson Prentice Hall
(Book) OECD/Eurostat (2005) Oslo Manual, 3rd edition
(Book) Schilling M.A. (2006) "Types of Innovation" in Strategic Management of Technological Innovation (2d ed.) McGraw-Hill, Irwin,
(Book) Schumpeter J.A. (1939), Business cycles: A theoretical, historical and statistical analysis, McGraw Hill, New York
(Book) Tidd, Joe, Bessant, John and Pavitt, Keith (2005) Managing Innovation: Integrating Technological, Market and Organizational Change. 3rd edition. John Wiley.
(Video) IBM Innovation Man
(Video) Sesame Street: Paula Patton and Elmo – Innovation
(Video) Tom Kuczmarski – How to Ignite a Culture of Innovation
(Article) Baregheh, A., Rowley, J., & Sambrook, S. (2009). Towards a multidisciplinary definition of innovation. Management Decision, 47(8), 1323-1339.
(Article) Birkinshaw, J., Hamel, G., & Mol, M. J. (2008). Management innovation. Academy of Management Review, 33(4), 825-845.
(Article) Fagerberg, J. (2004). Innovation: a guide to the literature. Working paper
(Article) Hage, J. T. (1999). Organizational innovation and organizational change. Annual Review of Socioogy, 25(1), 597-622.
(Article) Kastelle, T., & Steen, J. (2011). Ideas are not innovations. Prometheus, 29(2), 199-205.
(Article) Levitt, T. (2002). Creativity is not enough. Harvard Business Review, 80, 137-144.
(Article) Linton, J. D. (2009). De-babelizing the language of innovation. Technovation, 29(11), 729-737.
(Article) Mortensen, P. S., & Bloch, C. W. (2005). Oslo Manual-Guidelines for collecting and interpreting innovation data, Organization for Economic Cooperation and Development, OECD.
(Article) Nelson, R. R., & Winter, S. G. (1977). In search of useful theory of innovation. Research Policy, 6(1), 36-76.
(Article) Rothwell, R., Freeman, C., Horlsey, A., Jervis, V. T. P., Robertson, A. B., & Townsend, J. (1974). SAPPHO updated-project SAPPHO phase II. Research Policy, 3(3), 258-291.
(Article) Stauffer, Dennis A. (2015), "Valuable novelty: a proposed general theory of innovation and innovativeness." International Journal of Innovation Science 7(3),: 169-182.
(Article) Wolfe R.A. (1994), « Organizational innovation: review, critique and suggested research directions », Journal of Management Studies, 31(3) p. 405
(Article) Zhang, J. A., Garrett-Jones, S., & Szeto, R. (2013). Innovation capability and market performance: the moderating effect of industry dynamism. International Journal of Innovation Management, 17(02), 1350004.
Newness is relative
(Book) Evans, H., Buckland, G., & Lefer, D. (2009). They made America: From the steam engine to the search engine: Two centuries of innovators. Hachette UK.
(Book) Johnson, S. (2010). Where good ideas come from: The natural history of innovation. Penguin UK.
(Video) J Bezos the electricity revolution
(Video) The Transformation of the Desk by TechSoEasy
(Article) Berry, H. (2015). Knowledge inheritage in global industries: 'The impact of parent firm knowledge on the performance of foreign subsidiaries'. Academy of Management Journal, 58, 1438-1458.
(Article) Freeman, J., Carroll, G. R., & Hannan, M. T. (1983). The liability of newness: Age dependence in organizational death rates. American Sociological Review, 692-710.
(Article) Garcia, R., & Calantone, R. (2002). A critical look at technological innovation typology and innovativeness terminology: a literature review. Journal of Product Innovation Management, 19(2), 110-132.
(Article) Kock, A., Gemünden, H. G., Salomo, S., & Schultz, C. (2011). The mixed blessings of technological innovativeness for the commercial success of new products. Journal of Product Innovation Management, 28(s1), 28-43.
(Article) Snyder, H., Witell, L., Gustafsson, A., Fombelle, P., & Kristensson, P. (2016). Identifying categories of service innovation: A review and synthesis of the literature. Journal of Business Research, 69(7), 2401-2408.
(Article) Talke, K., Salomo, S., Wieringa, J. E., & Lutz, A. (2009). What about design newness? Investigating the relevance of a neglected dimension of product innovativeness. Journal of Product Innovation Management, 26(6), 601-615.
(Article) Van de Ven, A.H. (1986). Central problems in the management of innovation. Management Science, 32(5), 590-607.
(Article) Wei-Ken, H., & Lin-Lin, C. (2012). Effects of novelty and its dimensions on aesthetic preference in product design. International Journal of Design, 6(2).
(Article) Yayavaram, S., & Chen, W. (2015). 'Changes in firm knowledge couplings and firm innovation performance: the moderating role of technological complexity'. Strategic Management Journal, 36, 377-396.
Many small steps and a few big bets
(Book) Govindarajan, V. and Trimble, C. (2010) The other side of innovation: solving the execution challenge" Harvard Business Review Press
(Book) Hargadon, A. (2003). How breakthroughs happen: The surprising truth about how companies innovate. Harvard Business Press.
(Book) Hege, J. B. (2001). The Wankel rotary engine: a history. McFarland.
(Book) Tushman, M.L. and O'Reilly, C.A. (2002) Winning through Innovation, Harvard Business School Press,
(Video) Dick Fosbury flop – Mexico 1968 high jump final
(Video) Vijay Govindarajan: why most companies fail at innovation
(Video) What is innovation? de Rafa Galeano (on Vimeo)
(Article) Adner, R., & Snow, D. (2010). Old technology responses to new technology threats: demand heterogeneity and technology retreats. Industrial and Corporate Change, 19(5), 1655-1675
(Article) Ansari, S., & Garud, R. (2009). Inter-generational transitions in socio-technical systems: The case of mobile communications. Research Policy, 38(2), 382-392.
(Article) Chandy, R. K., & Tellis, G. J. (2000). The incumbent's curse? Incumbency, size, and radical product innovation. Journal of Marketing, 64(3), 1-17.
(Article) Chang, Y. C., Chang, H. T., Chi, H. R., Chen, M. H., & Deng, L. L. (2012). How do established firms improve radical innovation performance? The organizational capabilities view. Technovation, 32(7), 441-451.
(Article) Damanpour F. & Evan, W. (1996). 'Organizational innovation and performance. The problem of organizational lag', Administrative Sciences Quarterly, 29, 392-409.
(Article) Dewald, J., & Bowen, F. (2010). Storm clouds and silver linings: Responding to disruptive innovations through cognitive resilience. Entrepreneurship Theory and Practice, 34(1), 197-218.
(Article) Dewar, R.D. & Dutton, J.E. (1986). The Adoption of Radical and Incremental Innovations: An Empirical Analysis. Management Science, 32(11), 1422-1433
(Article) Fleming, L. (2001). Recombinant uncertainty in technological search. Management Science, 47(1), 117-132.
(Article) Furr, N.R., & Snow, D.C. (2014). Intergenerational Hybrids: Spillbacks, Spillforwards, and Adapting to Technology Discontinuities. Organization Science, 26(2), 475-493.
(Article) Gatignon, H., Tushman, M. L., Smith, W., & Anderson, P. (2002). A structural approach to assessing innovation: Construct development of innovation locus, type, and characteristics. Management Science, 48(9), 1103-1122.
(Article) Govindarajan, V., & Kopalle, P.K. (2006). Disruptiveness of innovations: measurement and an assessment of reliability and validity. Strategic Management Journal, 27(2), 189-199.
(Article) Henderson, R.M. & Clark, K.B. (1990). Architectural innovation: the reconfiguration of existing product technologies and the failures of established firms. Administrative Science Quarterly, 35, 9-30.
(Article) Li, Y., Vanhaverbeke, W., & Schoenmakers, W. (2008). Exploration and exploitation in innovation: Reframing the interpretation. Creativity and Innovation Management, 17(2), 107-126.
(Article) McDermott, C. M., & O'Connor, G. C. (2002). Managing radical innovation: an overview of emergent strategy issues. Journal of Product Innovation Management, 19(6), 424-438.
(Article) McLaughlin, P., Bessant, J., & Smart, P. (2008). Developing an organisation culture to facilitate radical innovation. International Journal of Technology Management, 44(3-4), 298-323.
(Article) Mezias, S.J., & Glynn, M.A. (1993). The three faces of corporate renewal: Institution, revolution, and evolution. Strategic Management Journal, 14(2), 77-101.
(Article) Phillips, W., Noke, H., Bessant, J., & Lamming, R. (2006). Beyond the steady state: managing discontinuous product and process innovation. International Journal of Innovation Management, 10(02), 175-196.
(Article) Sainio, L. M., Ritala, P., & Hurmelinna-Laukkanen, P. (2012). Constituents of radical innovation—exploring the role of strategic orientations and market uncertainty. Technovation, 32(11), 591-599.
(Article) Schiavone, F. (2011). Strategic reactions to technology competition: A decision-making model. Management Decision, 49(5), 801-809.
(Article) Slater, S. F., Mohr, J. J., & Sengupta, S. (2014). Radical product innovation capability: Literature review, synthesis, and illustrative research propositions. Journal of Product Innovation Management, 31(3), 552-566.
(Article) Tongur, S., & Engwall, M. (2014). The business model dilemma of technology shifts. Technovation, 34(9), 525-535.
(Article) Tushman, M.L. and Anderson, P. (1988). "Technological discontinuities and organizational environments" Administrative Science Quarterly, 31, 439-465.