NEW: Watch the executive summary (beta)
The first way to develop an innovation strategy is to (re)define where the firm wants to compete, what it defines as being part of its (new) "core business". Specifically, this means finding new ways to explore – not just exploit – and reconfigure its business portfolio.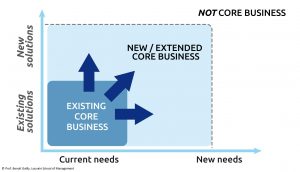 The second way to develop an innovation strategy is to redefine how the firm wants its businesses to compete and which product/market positioning and value chain it wants them to build and sustain.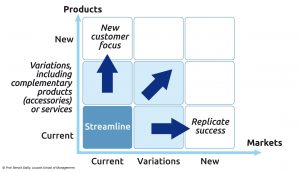 A key element of an innovation strategy is to understand that first is not always best. A firm should assess and define how quickly it wants to enter new business areas and manage innovation accordingly.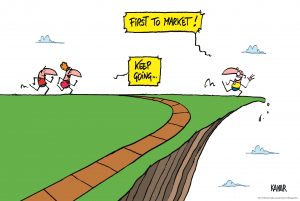 One high-risk/high-potential innovation strategy is to challenge generic strategies and define and implement a "strategic innovation," a radical redefinition of where and how a firm wants to compete and shape its future.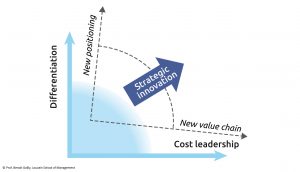 Bibliography
Innovative corporate strategies: (re)define the core business
Keywords: adjacent opportunities, BCG matrix, business portfolio, core business, corporate strategy, directions of development, diversification, exploration/exploitation, GE-McKinsey matrix, playground, strategy
Innovative business strategies: redefine how to compete
Keywords: Ansoff matrix, business strategy, business value chain, cost leadership, disintermediation, industry value chain, intermediation, product/market strategy
Timing: first is not always best
Keywords: experience curve, incumbent, first mover (dis)advantage, follower, imitation, learning curve, lock-in, network effect, persistence of innovation, switching costs
Off the beaten paths: strategic innovations
Keywords: Blue Ocean strategy, strategic innovation
(c) Prof. Benoit Gailly, Louvain School of Management