Le 18 janvier 2013, l'émission MédiaTIC de la RTBF (Matin première) titrait: "Quand les 'twittos-reporters' font valoir leurs droits d'auteurs" (voir ici). Où il était question, entre autres, des mésaventures d'un photo-journaliste américain, Daniel Morel. Ce dernier avait couvert le tragique tremblement de terre d'Haïti en 2010. Vu les dévastations sur place, Daniel Morel avait été contraint de mettre ses photos sur le réseau Twitpic en les reliant à son compte Twitter.
La devise du site de partage Twitpic est: "Share your photos and videos as they happen". Certains internautes vont interpréter ce "your" photos avec largesse:  les photos de Daniel Morel seront ainsi rapidement republiées sur le compte Twitter de Lisandro Suero (voir photo annexée). Ce dernier va même les offrir en vente. Plusieurs agences de presse dont l'Agence France Presse (AFP) tomberont dans le panneau.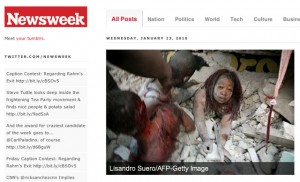 L'histoire prend ici un tournant un peu inattendu car c'est l'AFP qui introduira une action en justice contre Morel et Getty Images.
Question 1: pouvez-vous compléter l'histoire en résumant les principaux motifs (attention la décision fait 58 pages, il faut apprendre à lire en diagonale!) et le dispositif de la décision AFP v. Morel du 14 janvier 2013  (US District Court of the S.D. of New York)
Question 2: connaissez-vous d'autres décisions à propos d'auteurs-professionnels (par ex. des journalistes de métier) ou d'auteurs-amateurs (par ex des journalistes-citoyens) qui postent du contenu sur des réseaux sociaux, puis sont repris par des opérateurs commerciaux?
Merci pour vos filons (et vos liens vers les éventuelles décisions).