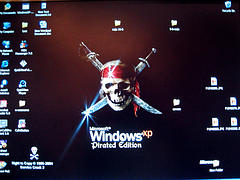 Yesterday (November 26, 2010), the New York Times published two short articles concerning online piracy of digital goods.
The first article (Swedish Court Upholds Convictions in File-Sharing Case) reports that an appeals court in Sweden upheld the copyright convictions of three men behind Pirate Bay, a popular file-sharing site that remains in operation despite attempts to shut it down (this site is helping millions of people illegally download music, movies and computer games).
The second article (U.S. Shuts Down Web Sites in Piracy Crackdown) reports that the ICE (Immigration and Customs Enforcement) has seized the Web addresses of a number of sites that facilitate illegal file-sharing. In taking over the sites' domain names, or Web addresses, the government effectively redirected any visitors to its own takedown notice: "This domain name has been seized by ICE (…) pursuant to a seizure warrant issued by a United States District Court."
Online piracy will be the topic of the next two lectures of LLSMS2041 'Economics of Innovation'. This Thursday, we will have the pleasure to welcome Alain Strowel. Alain will address the following topic: "How to Deal with Online Piracy? Liability of Intermediaries and the Graduated Response for Repeat Infringers", which is directly linked to the above two articles. Alain also organizes a conference on this topic on December 14, 2010.
Before this lecture, you are invited to express here your own feelings about the downloading of music, movies and computer games on the Internet.