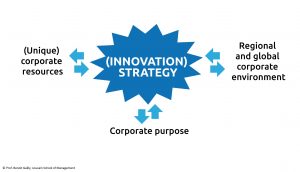 Innovation is a means, not an end per se. A firm's innovation strategy should be about how its management of innovations will help it to leverage its unique resources and adjust to changes in its environment, in line with its corporate purpose.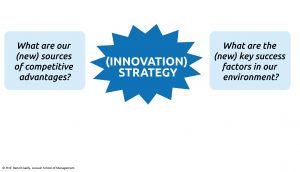 Innovation strategies should be based on what the firm understands are the present and future key success factors relevant in the environment it faces, including in particular new partnerships, and its present and future sources of competitive advantages, including in particular its unique datasets.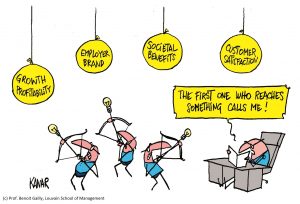 Innovation strategies should be based on a shared understanding of who are the key stakeholders, including shareholders, employees, customers and society, and what are their expectations, especially regarding the time horizon considered and level of ambition.
Strategy should drive innovation, not the other way around. A firm's innovation posture should therefore be defined based on what its strategic objectives are in terms of innovation, and not just on the latest innovation buzzwords or recipes.
Bibliography
Innovation as a means, not an end
Key success factors and sources of competitive advantages
Purpose: managing stakeholder expectations
Define your innovation posture